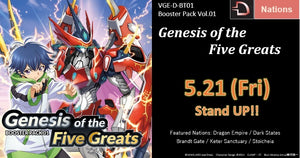 Cardfight!! Vanguard - overDress - Genesis Of The Five Greats - Booster Box
The very first booster for Cardfight!! Vanguard overDress series!
The new animation series "Cardfight!! Vanguard overDress" begins April 2021!
Supporting all 5 nations! Players can look forward to obtaining powerful upgrades to buff up any of their SDs!
Furthermore, a brand new deck with a different theme can be constructed for each nation!!
More exhilarating gameplay with new mechanic "Over Trigger" for each nation specifically!
Make full use of the quirks of each type during your fight!