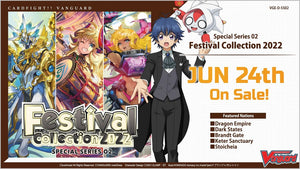 Cardfight!! Vanguard - overDress - Special Series 02: Festival Collection 2022 - Booster Box
Configuration:
3 cards per pack
10 packs per display
30 displays per carton
The theme of "Festival Collection 2022" is Blackout & Daybreak!
Featuring cards that strengthen decks used by each of Yu-yu's and Mirei's team members!
Super gorgeous treatment with all of the cards being RR or greater!
Featured Nations: Dragon Empire, Dark States, Brandt Gate, Keter Sanctuary, Stoicheia
Product Specifications
35 types of cards (35 new cards)
(RRR: 10 / RR: 25) + Parallels
All of the cards are RR or greater!
1 display box will contain all the new types!
※Other than when SP is included