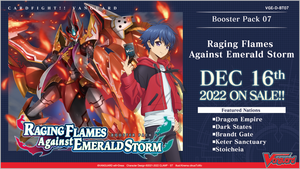 Cardfight!! Vanguard - willDress - Raging Flame Against Emerald Storm - Booster Box
This booster pack features units that appear in the climax of the "CARDFIGHT!! VANGUARD will+Dress" season 1 animation! This booster pack features many cards used by Michiru Hazama, such as "Demonic Jewel Dragon, Drajeweled", that are perfect for strengthening Trial Deck 02 "Michiru Hazama -Demonic Jewel Dragon of the Four Flames-"!
Be sure to also look out for the English Edition exclusive World Original card!
Each PR Pack will contain 1 random card, with 6 types to collect!
Featured Nations:
Dragon Empire
Dark States
Brandt Gate
Keter Sanctuary
Stoicheia
91 types (including 1 WO) + Parallels
2 cards in every pack will definitely be R or above cards!!