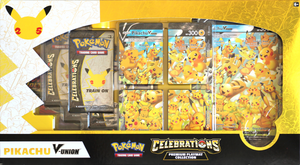 Celebrations: 25th Anniversary - Premium Playmat Collection (Pikachu V-Union)
| | |
| --- | --- |
| Set: | Celebrations: 25th Anniversary Sealed |
| Release Date: | 2021-10-08 |
Put It All Together: Pikachu V-Union!

Celebrate in a BIG way with the new Pikachu V-UNION: a single powerful Pokémon divided into four cards! You'll have to use your wits and skill to get this particular Pikachu into battle (with the help of Professor Burnet), but once you do, you'll be ready to let loose with one of four awesome attacks! This premium collection also brings you a handful of Pokémon TCG: Celebrations booster packs and a fantastic playmat with plenty of room to assemble your star player. Are you ready for the challenge. Trainer?

The Celebrations: 25th Anniversary - Premium Playmat Collection (Pikachu V-Union) includes:

• 4 Foil promo cards that make up a single Pikachu V-UNION
• 1 Oversize card featuring Pikachu V-UNION
• 1 Helpful Supporter card featuring Professor Burnet
• 6 Pokémon TCG: Celebrations 4-card boosters
• 3 Additional Pokémon TCG boosters
• An awesome Pokémon TCG Playmat featuring the Pokémon 25 logo
• A code card for the Pokémon Trading Card Game Online

Cards vary by pack. Packs may vary by products.