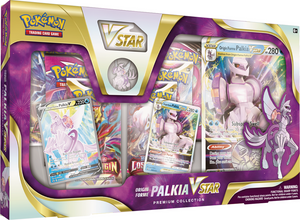 Pokemon - Palkia VSTAR - Premium Collection
Discover the Origin Formes of One Legendary Pokémon VSTAR!
Origin Forme Palkia VSTAR wields colossal strength to bend time to its will! Appearing here in both playable and oversize versions, this ancient Legendary Pokémon boasts a potentially game-changing VSTAR Power. To round out this deluxe collection, the star Pokémon also appears as a Pokémon V, metal pin, and shimmering coin!
Each Pokémon TCG: Origin Forme Pokémon VSTAR Premium Collection includes:
1 etched foil card featuring Origin Forme Palkia VSTAR 
1 etched foil card featuring Origin Forme Palkia V 
1 oversize foil card featuring Origin Forme Palkia VSTAR  VSTAR
1 pin featuring Origin Forme Palkia 
1 metallic coin featuring Origin Forme Palkia
6 Pokémon TCG booster packs
1 acrylic VSTAR marker
A code card for Pokémon TCG Live