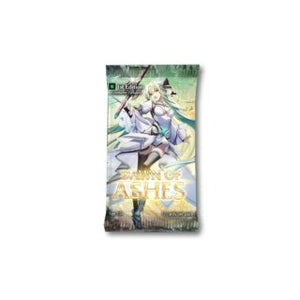 Grand Archive - Dawn Of Ashes - Kickstarter Exclusive - Booster Pack - 1st Edition
The introductory set to Grand Archive TCG, Dawn of Ashes explores the medieval realm of Cambria, inspired by the Arthurian myths. Gallant knights, powerful sorcerers, underhanded plots, and legendary creatures roam the lands. However, a devious scheme brews beneath the surface. Can our intrepid champions uncover the truth and save the world before it's too late? 
Dawn of Ashes Alter Edition is the first product to be available through distribution and LGS's in April 2023. Alter Edition is printed to demand in order to make sure the game remains accessible to everyone.