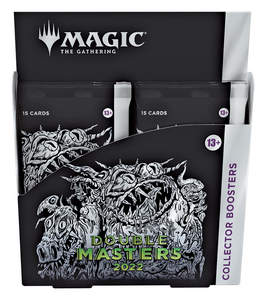 Magic - Double Masters 2022 - Collector Booster Box
Configuration:
15 Cards + 1 Token per Pack
4 Packs per Display
8 Displays per Case

Everything fans loved about Double Masters is back in Double Masters 2022 with more powerful reprints and a multicolor draft focus. All this, and more, arrives in the third quarter of 2022.
The Double Masters 2022 Collector Booster Box contains 4 Double Masters 2022 Collector Boosters. Each Collector Booster contains 15 cards and 1 Traditional Foil double-sided token, with a combination of 4 cards of rarity Rare or higher, 2–6 Uncommon, and 5–9 Common cards. Every pack contains 10–11 Traditional Foil cards and 1 Rare or Mythic Rare Foil-Etched card. Textured Foil Mythic Rare in 3% of boosters.
4 Double Masters 2022 MTG Collector Boosters
15 Magic cards + 1 foil token in each booster
6 Borderless cards in every pack—Textured Foil Borderless card in 3% of boosters
1 Foil-Etched + 10–11 Traditional Foil cards in every pack
4 cards of rarity Rare or higher in every pack
Get a double dose of some of the strongest, coolest Magic cards ever made!