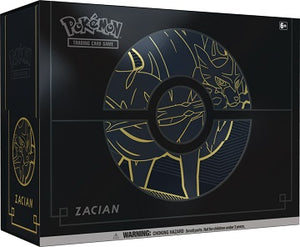 Pokemon - Zacian - Elite Trainer Box Plus
Let Zacian or Zamazenta Guide You Through Galar!
Add a tremendous, powerful Galar region Pokémon and metal coins, dice, and condition markers to your Pokémon TCG experience! With a Legendary Pokémon of Galar in golden card form, accompanied by shining metal accessories, your collection will stand out as a beacon. With the power of Zacian V or Zamazenta V, your decks will seize the day, channeling the strength of this Metal-type Pokémon into your roster. In addition to a player's guide covering the entire first year of the Sword & Shield Series, including details about top cards and combos, you'll find more surprises in Pokémon TCG booster packs. Do more than just explore Galar: stand shoulder to shoulder with one of its greatest legends!
The Pokémon TCG: Sword & Shield Elite Trainer Box Plus—Zacian or Zamazenta includes:
A special gold version of Zacian V or Zamazenta V
6 metal damage-counter dice
1 metal coin featuring Zacian or Zamazenta
65 card sleeves featuring Zacian or Zamazenta
A set of richly designed metal condition markers
12 Pokémon TCG booster packs from the Sword & Shield Series
A player's guide to the first year of Pokémon TCG: Sword & Shield Series expansions and promo cards
A Pokémon TCG rules booklet
A code card for the Pokémon Trading Card Game Online