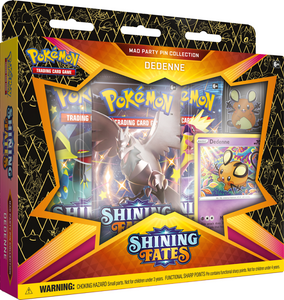 Pokemon - Shining Fates - Dedenne - Mad Party Pin Collection
It's a Mad Party—with Dedenne!
Nothing connects like a high-speed Mad Party! Do a little electric slide with Dedenne and throw a party like no other with this collection featuring Pokémon TCG: Shining Fates booster packs and an unusual Psychic-type spin on power Pokémon!
The Pokémon TCG: Shining Fates Mad Party Pin Collection (Dedenne) includes:
1 foil promo card featuring Dedenne
1 bright enamel pin featuring Dedenne
3 Pokémon TCG: Shining Fates booster packs, each containing 10 cards and 1 basic Energy
A code card for the Pokémon Trading Card Game Online